Google Ads help pay the expense of maintaining this site
ggg

---
Click Here for the Neighborhood Transformation Website
Fair Use Disclaimer
---
Neighborhood Transformation is a nonprofit, noncommercial website that, at times, may contain copyrighted material that have not always been specifically authorized by the copyright owner. It makes such material available in its efforts to advance the understanding of poverty and low income distressed neighborhoods in hopes of helping to find solutions for those problems. It believes that this constitutes a 'fair use' of any such copyrighted material as provided for in section 107 of the US Copyright Law. Persons wishing to use copyrighted material from this site for purposes of their own that go beyond 'fair use' must first obtain permission from the copyright owner.
8/25/03 - Miami Herald
New parking rules stall Liberty City businesses
Parking ban is economic issue to owners, safety issue to agency
By Carolyn Salazar
Along the Northwest Seventh Avenue corridor in Liberty City, hand-scrawled signs welcome customers to mom-and-pop places -- wig shops, fruit stands, discount stores -- many of them decades old. Many of those merchants who scrape out a living in one of Miami's last surviving black business districts say they are being squeezed to death by new parking rules set by the Florida Department of Transportation and strictly enforced by Miami police.
Although the business owners know they will not be part of the redeveloped ''New Miami'' that is slowly headed their way, they say they want the chance to leave on their own terms, with some dignity -- and not be forced out by new rules they see as arbitrary.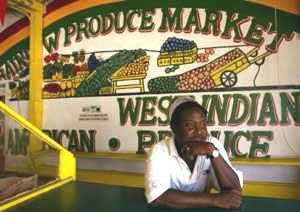 ''There is redevelopment coming, and that's a reality. But we don't want to be put out of business before it's time,'' said Elaine H. Black, executive director of Tools For Change, an organization on Northwest Seventh Avenue devoted to the redevelopment of crumbling black neighborhoods. ``These are businesses that have been here for years, and it's unfair to put them out because of a parking issue.''
DOT engineers say it's more than a parking issue -- it's a safety issue. They say they need to use the avenue, a block east of Interstate 95, as a diversion route when road work or accidents clog up the highway.
Parking in the right lane of Northwest Seventh already can create jams and confusion for drivers during commuting hours. If the road is used as an I-95 detour, even more people will use it -- and that means the street parking can no longer be allowed, the DOT says.
''All we're trying to do is take care of the safety end of it,'' said Rory J. Santana, DOT district traffic operations engineer.
While the rules were set by the DOT, Miami police officers enforce them. Business owners accuse overzealous officers of taking enforcement to the extreme, sometimes ticketing employees as they unload merchandise from their vehicles.
NO CHOICE
But officers say they are just doing their job.
''On the police end, if a sign says no parking, we have no choice but to enforce that,'' said Craig McQueen, the police major of the North District Substation. ``Obviously police officers have discretion, but if someone is blocking traffic they have every right to write a ticket.''
The Seventh Avenue dispute began two months ago when the DOT began forbidding on-street parking and wasted no time in cracking down. Since then, the issue has become so charged that a U.S. congressman has stepped in to try to temper the conflict.
U.S. Rep. Kendrick Meek, who is a member of the committee redeveloping Seventh Avenue, said he did not want the improvement effort ruined because of a parking problem. He has set up several meetings between Miami police, the DOT and business owners -- including one scheduled for today -- so the three sides could reach a compromise.
''This is a historical business district, especially as it relates to the black community because it's the last one,'' said Meek, D-Miami.
FEDERAL FUNDING
Meek, along with his congressional predecessor and mother, Carrie P. Meek, has secured more than $4 million in federal funding to help revitalize the neighborhood along Seventh Avenue. An additional $1.3 million for the effort was also included in the 2004 fiscal year transportation appropriations bill. The plan is to turn a portion of Seventh Avenue into a transportation hub in about two years.
Technically, Seventh Avenue has no on-street parking spots like those along Southwest Eighth Street in Little Havana or Washington Avenue in South Beach. But for years, vehicles have been allowed to park in the right lane, on the side of the street. The only parking restrictions were during peak hours, when drivers were only allowed to park on one side of the street.
The lax parking rules allowed customers in a hurry to dash into a store, pay for their merchandise and leave -- without the inconvenience of having to look for parking. The few unpaved parking lots in the area are riddled with holes and are in unsafe areas.
Even those who broke the rules then were granted a small reprieve: Police officers often would honk their horns in front of businesses to warn scofflaws that parking enforcers were on the way.
TRAFFIC STUDY
But in June, following a DOT traffic study showing Seventh Avenue is a safety hazard because of its high number of traffic accidents, the department concluded on-street parking needed to stop -- immediately. Compounding matters: A DOT spokeswoman sent out letters in June saying the traffic rules would be enforced starting Aug. 28, but enforcement began the next day.
Business owners say the tug of war over parking is reminiscent of another controversy involving I-95, when construction of the interstate through the heart of the once-thriving Overtown gutted its business and cultural base.
LOST PROFITS
While rearranging his sugar canes and coconuts stacked in a metal cart in front of his produce store, Eion Hunte glumly stared at the floor as he spoke about how he has lost 70 percent of his profits since the new parking rules went into effect.
Hunte started his business 17 years ago beneath a small shed at 4338 NW Seventh Ave., selling three boxes of fruits and vegetables -- everything from collard greens to plantains to coconuts -- along with more than a dozen shoes. He stayed in the same location, and International Rainbow Produce eventually grew into a deli and mini-supermarket.
A single father, Hunte said his business helped him raise three children alone after their mother died.
''I used to have folks in here sitting down and eating,'' Hunte said, pointing to three empty wooden tables next to the deli he recently shut down because of slow business. ``The neighbors here love me. I like this area, my kids were raised here, so I don't want to leave. But now, after 17 years, I may have no choice.''
MAY SHUT DOWN
Ras Abedi, owner of Aethiopian Marketplace at 6345 NW Seventh Ave., an Ethiopian gift shop and health food store that also sells tie-dye clothing and African garb, says he also may have no choice but to shut down. He said his sales used to average over $100 a day, but now he's lucky if he makes $50 a day. He said at least two of his customers who briefly came in to buy merchandise walked outside to find a $28 parking ticket tacked onto their windshield.
''Who would want to come back here after that?'' he said. ``We are small mom-and-pop shops, and we don't want to relocate -- I want to stay here and serve my community, my historically black community. Someone needs to find a way to solve this issue.''
NOT AT FAULT
But business owners are getting no sympathy from DOT officials, who say just because traffic laws have been disregarded for 30 years does not mean it should keep happening. And they say they should not be blamed for the city's poor planning.
The DOT's Santana pointed to the department's study -- which showed vehicle collisions on Seventh Avenue, from Southwest Eighth to Northwest 79th streets, jumped from 92 to 334 in the past decade -- as the reason that new rules are needed.
''They are parking in the traffic lane. It's like someone parking in the middle of Kendall, it just doesn't make sense,'' Santana said. ``Something that worked for 30 years isn't going to work now.''
And, Santana added, the DOT should not have to compromise the safety of its commuters because business owners did not invest in fixing parking lots when their stores were making money.
''If you look at the facts, who's really hurting here?'' he said.