Google Ads help pay the expense of maintaining this site
ggg

---
Click Here for the Neighborhood Transformation Website
Fair Use Disclaimer
---
Neighborhood Transformation is a nonprofit, noncommercial website that, at times, may contain copyrighted material that have not always been specifically authorized by the copyright owner. It makes such material available in its efforts to advance the understanding of poverty and low income distressed neighborhoods in hopes of helping to find solutions for those problems. It believes that this constitutes a 'fair use' of any such copyrighted material as provided for in section 107 of the US Copyright Law. Persons wishing to use copyrighted material from this site for purposes of their own that go beyond 'fair use' must first obtain permission from the copyright owner.
Miami Hearld - May. 17, 2004
$150 million development project eyed for Overtown
By Oscar Corral
Miami Mayor Manny Diaz is on the verge of announcing what may be the biggest private redevelopment project in Overtown history, an effort that could have a widespread impact on the perpetually downtrodden neighborhood and its surroundings.
But the $150 million Crosswinds deal is still winding its way through Miami's complex politics, with the area's city commissioner, Arthur Teele Jr., saying it could threaten Overtown's character and history as a predominantly black community.
The Collins Center for Public Policy, a nonprofit research organization in Miami, introduced Michigan-based Crosswinds Communities to Diaz and Commissioner Johnny Winton a year ago so it could propose its project.
Crosswinds wants to build 1,000 housing units, more than have been built in Overtown in several decades. Part of the deal calls for Crosswinds to make 200 of the units available for affordable housing. Fifty of them would be for current Overtown residents.
The project would also include tens of thousands of feet of mixed-use space at street level for shops, restaurants and perhaps even nightclubs. Crosswinds has hired Miami-based Arquitectonica, a prestigious architectural firm, for the design.
Diaz says the project will likely usher in a wave of redevelopment.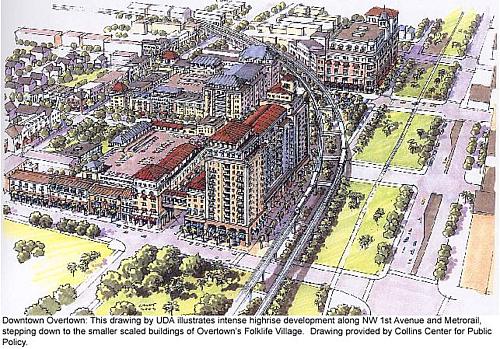 ''My philosophy is that no real estate developer likes to be the pioneer, but once the first guy steps up and succeeds, you open the floodgates,'' Diaz said. ``I think this is a landmark project that will bring Overtown back.''
While it's not the first time a politician has proclaimed the beginning of an Overtown turnaround, the Crosswinds project is unlike any other proposed in that area -- the poorest part of Miami, according to the U.S. Census.
`ECONOMIC ENGINE'
''This is not another tower in the sky where units start at $500,000,'' said Steve Feldman, the Miami-based president of Crosswinds. ``It becomes an economic engine for all of Overtown.''
Private financing for the bulk of this deal would likely come from Coral Gables-based American Ventures Realty Investors, which was founded by Philip Blumberg.
Crosswinds wants the first phase of the project to be on 5 ½ vacant blocks west of Miami Arena, 3 ½ of which are tied up in a legal battle between the city and developer Ted Weitzel. That lawsuit would have to be settled before Crosswinds could build.
The two other lots are owned by the city's Community Redevelopment Agency, which has had its share of controversy over the past two years.
Supporters say the deal has the potential to turn the Overtown area around in a way that the government and nonprofit community development corporations have failed to do.
MICHIGAN BUILDER
For starters, Crosswinds is a nationally renowned development company that has built tens of thousands of homes. It is the largest independently owned builder in Michigan, and Big Builder magazine ranked it last December as the ninth most admired builder in the United States.
The company, which has done work in six states, specializes in town homes, single-family homes, commercial developments and master-planned communities.
Diaz said the city would likely subsidize the project with some public funding. As with the Midtown Miami project north of downtown, the public money for Crosswinds would probably come from the reinvestment of rising property taxes collected from the project after it is built.
If Diaz and Crosswinds can pull off the project, it would be a milestone for the city. In the last decade, politicians have poured more than $70 million in public funds into the Overtown area, with little benefit, a Herald investigation determined last year.
But the proposal is being criticized by Commissioner Teele, who was not involved in landing the deal and has raised objections during the last several weeks.
In a recent telephone interview, Teele said he was worried that the project would hurt the neighborhood's historically black character.
''It will become a large gentrification project,'' Teele said.
Diaz counters that the deal would help, not hurt, Overtown. The initial project is entirely on vacant land, and no Overtown residents, except some homeless people, would be displaced.
Diaz said Teele is not trying to block the deal but is simply giving his input on a major project in his district.
''I've never been in a business deal in which everyone agreed on Day 1,'' Diaz said. ``People disagree on things. But at the end of the day, people try to get a deal done.''
About two months ago, Teele told Winton in a public meeting that he didn't want the two lots owned by the Community Redevelopment Agency to be included. Teele has been the CRA's chairman since 1997.
Soon after Teele's comment, Winton said, the city and Crosswinds reduced the scope of the project to exclude most of the two CRA-owned blocks.
COMPLICATIONS ARISE
The reduced scope has complicated the ambitious project. Without much of the CRA-owned land, Crosswinds would have to make the housing components denser and build higher, something that city officials want to avoid because it is inconsistent with Overtown's character.
In a surprise earlier this month, at a special meeting of the CRA called by Teele, its board voted to put one of the two CRA-owned lots out for proposals. CRA Executive Director Frank Rollason said Crosswinds is expected to bid on the block.
In an interview, Teele said he supports the project's ``concept, goal and intent.''
''I think Crosswinds has a great concept that is very good for the city,'' he said. But, he added, ``we have to minimize and mitigate against the negative implications.''
One of Teele's concerns is that the businesses that rely on those empty blocks of land for parking, such as the historic Lyric Theater and the Longshoremen's union office, would be left without it. He also said that neither the city nor Crosswinds has pledged dollars yet to ensure that a percentage of the housing units are affordable.
Without Teele's support, the deal could die. At least one Miami commissioner, Tomas Regalado, has said that he would follow Teele's lead when voting.
Some Overtown community activists are furious at Teele for tampering with what they say is a positive prospect for Overtown.
Irby McKnight, chairman of the Overtown Advisory Board, and Vice Chairman Del Bryan say Teele lacks the credibility to attack the Crosswinds deal because he has done little for the neighborhood.
''If [Teele] thinks Crosswinds is such a bad idea, then why hasn't he been to the community to tell us that or to offer something better?'' asked McKnight, who tried unsuccessfully to have Teele removed from office through voter recall.
ISSUES RAISED
But Teele isn't the only person asking questions.
Local community development corporations, such as St. John CDC and BAME Development Corp., want to be included in the development deal.
The Herald has reported over the last two years that both corporations have been plagued by a lack of productivity. Some community activists, including Del Bryan, believe that giving the local community development corporations a stake in the project would be a recipe for failure.
David Alexander, executive director of St. John, said he has asked Teele and the Collins Center to include his organization. ''We've been trying to negotiate with [Crosswinds] for a very long time,'' Alexander said. ``But as of yet, we have not reached any substantive agreement with them.''
Jackie Bell, executive director of New Washington Heights Community Development Corp., said she was outraged by the Crosswinds project.
''I think that land is sacred and that blood should be spilled if anyone gets it other than the African-American community,'' she said. ``The African-American community should set them on fire if they come.''
John Hall, managing member of the Black Archives, which also wants to see Overtown developed, said the black community needs to know more about Crosswinds to determine whether to support it.
''It is my view that Crosswinds can be more responsive to the Overtown community,'' Hall said. ``And it's not too late for them to do that.''
Herald staff writer Andres Viglucci contributed to this report