Google Ads help pay the expense of maintaining this site
ggg

---
Click Here for the Neighborhood Transformation Website
Fair Use Disclaimer
---
Neighborhood Transformation is a nonprofit, noncommercial website that, at times, may contain copyrighted material that have not always been specifically authorized by the copyright owner. It makes such material available in its efforts to advance the understanding of poverty and low income distressed neighborhoods in hopes of helping to find solutions for those problems. It believes that this constitutes a 'fair use' of any such copyrighted material as provided for in section 107 of the US Copyright Law. Persons wishing to use copyrighted material from this site for purposes of their own that go beyond 'fair use' must first obtain permission from the copyright owner.
Daily Business Review - July 31, 2006
Real Estate Review: Planning Report
Work force housing proposal for West Palm area regains footing
By: Robert D. Johnston
After years of planning and haggling, a much-needed work force housing project for West Palm Beach's Northwood Village seems to be back on track.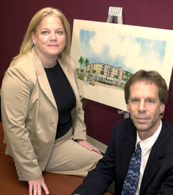 Nonprofit developer Northwood Renaissance plans to submit its third redesign for the five-story Village Centre within two weeks and Community Redevelopment Agency officials said the project will be on their agenda within two months.
The CRA had rejected an earlier design for a rental project, saying it wanted the residences to be condos. The CRA also wanted improvements in Village Centre's parking plans.
Mayor Lois Frankel said she supports the project as long as the CRA concerns are addressed. "We have absolutely nothing against this project," Frankel said in response to Northwood's complaints about the difficult review process.
"Work force housing projects have to go through the same scrutiny as regular ones. We want this to happen, but want to make sure it is going to be fully feasible."
Northwood, a six-block area two miles north of downtown between 25th Street and Northwood Road, has suffered for years from blight and crime. Business owners are accustomed to finding bullet holes in their store windows and empty bullet casings on the ground when they arrive at work in the mornings.
The Village Centre project was conceived by Northwood Renaissance as key to the neighborhood's rebirth. It was designed in 2004 as an 84-unit affordable apartment project and was to be built on a 1-acre tract formerly a haven for drug addicts and prostitutes.
Northwood Renaissance and city officials hope a condo community targeting middle-income workers will help change that. Village Centre's 60 condo units will sell for $250,000, with subsidies as high as $90,000 for qualified buyers. At an estimated $15 million sellout, the profit source is expected to be a 10,000-square-foot commercial component that will provide a revenue stream to repay debt.
But Northwood executive director Terry Murray said the lengthy tug-of war with the CRA has forced construction costs to rise by $2 million. He also said the developer lost out on $10 million when a tax credit program expired.
The planning process began in 2001 when Renaissance worked with community leaders to rezone Northwood with new building codes, land-use policies and density bonus incentives to encourage construction of work force housing. Village Centre's problems began in 2004 when the West Palm Beach CRA rejected the original design, saying it lacked adequate parking and the vehicle overflow would burden neighboring businesses and homes. It also worried that Village Centre was designed as a low-income rental building.
"This project was not affordable or attainable, it was low-income," said CRA Executive Director Kim Briesemeister. "Rentals tend to attract a more transient use which would not bring stability to the small retail district. We suggested they consider a for-sale project that was a mixture of affordable and market-rate housing. That type of design would bring residents to the district with a stake in the future of the neighborhood."
The redesign was costly for Northwood. Village Centre had qualified for $10 million worth of tax credits that would expire if not used within a specific time period. And its partner, Coconut Grove's Carlisle Development Group, was becoming inpatient and dropped out of the project in November 2005.
Greater Miami Neighborhoods Inc., an affordable housing developer headed by Gus Dominguez, soon agreed to take over Carlisle's role. A second plan was submitted to the city for a 68-unit complex with a mixture of market rate and affordable condos as well as a two-story parking structure.
"The major planning challenge here was to come up with a design that included parking without it superinflating the cost of the project," said Northwood's Murray.
"It was around this time that the tax credits expired and we realized the parking building would cost in excess of $1.5 million," said Village Centre project manager Scott Klein.
Now Northwood is ready to submit its third design, which will include 60 condo units and a $900,000 surface parking structure. Paula Ryan, interim director of the city's community development division, said the project will be put on the CRA's agenda within 30 to 60 days after the revised design is submitted.
Greater Miami, Northwood and another partner, Local Initiatives Support Corp., have already spent close to $3 million on Village Centre's predevelopment. Citibank has agreed to a $17 million construction loan once the site plan is approved. Fidelity Federal will provide about $2 million to fund the ground-floor commercial space.
Auction worries
Northwood's concerns go beyond Village Centre's design. The developer is also worried that a recent city ordinance allowing the sale of surplus properties through online auctions could further reduce land availability for construction of work force housing. The city has traditionally donated unwanted parcels to nonprofit housing groups.
"What we have are two competing goals. Ours is affordable housing, and the city's is to increase revenue by raising the tax base," said Northwood Renaissance president Carl Flick.
Flick discussed his concerns about the online auction with city staff last week. He said he was assured no fire sale of surplus properties would take place. The mayor previously said that the auction was adopted to modernize the city's property sale methods.
"We were told that there would be auction safeguards for the disposition of these properties," Flick said. "They gave us assurance that there would be public scrutiny on the transactions and that the tradition of giving nonprofits vacant surplus sites for affordable homes would continue."
No specific properties have been allocated yet for donation to nonprofit groups, Frankel said. "Most of our surplus land will be used for work force housing in one way or another. In fact we already have 250 units in the pipeline both as infill construction and redevelopment. To say our goal is only that of increasing the tax base is being short sighted and cynical."
West Palm Beach officials said a 43-acre tract along Haverhill Road south of 45th Street is the first one going on the auction block.
Housing advocates say it's increasingly difficult for the average worker to buy a residence. According to recent survey the Housing Leadership Council of Palm Beach, 90 percent of Palm Beach County's work force can't afford to buy a home at current market prices.
"Right now we have at least 70 families totaling more than 300 people who have been pre-approved for a home through our organization," Murray said. "But due to lack of an affordable housing inventory, many stay in the pipeline for months and years. Whatever money they had saved ends up being spent just trying to survive while they wait."
Robert D. Johnston can be reached at rjohnston@alm.com or at (561) 820-2070.
Photo of Terry Murray and Carl Flick photo by Melanie Bell